About Johann Heinrich Zedlers Universal-Lexicon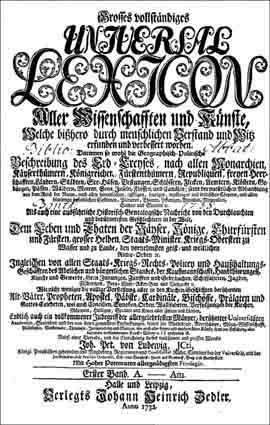 The Universal Lexicon published by Johann Heinrich Zedler is by far the most comprehensive encyclopedic work that was produced in Europe in the 18th century. The 64 volumes and 4 supplementary volumes contain approximately 63,000 two-column folio pages with around 284,000 articles and 276,000 references. The articles cover the whole area of ​​knowledge. It covers such diverse subjects as mineralogy and jurisprudence, medicine and astrology, economics and music, zoology and philosophy, crafts and religion. The vast majority of items are found, however, in the biographical (around 120,000) and geographical (73,000) range. Since the Universal Lexicon was published in a relatively short period (1731-1754) and contains numerous articles that were previously published in specialized lexicons, it represents a significant source for research on the 18th century. The authors of the articles that have been written specifically for the Universal Lexicon are largely unknown until today.
The version of this Universal Lexicon published here, has been digitized by the Bavarian State Library between 1999 and 2001. This made approximately 284,000 entries of the Zedler available for searching, as well as all approx. 276,000 references.
In a cooperative project of the Herzog August Bibliothek Wolfenbüttel with the Bavarian State Library 2004, all 284,000 items were classified objectively by 2007, allowing a search by Categories .